I love to teach my blessings in the kitchen with me! This week we made banana bread together. Thankfully they love to help!
One of my favorite gifts we received when my husband and I got married 16 years ago was a Sunbeam Food Steamer. I love this item in my kitchen! It has been a wonderful tool to have for so long. I can steam vegetables, chicken, fish, fruit, rice and so many more things in it. It can even bake banana bread. Yes, you read that correctly, banana bread in the steamer! It makes the most moist banana bread you will ever taste! Thankfully this handy appliance came with an instructional manual and recipes. In the back of the book is the recipe on how to make banana bread. Keep reading for the recipe at the end of the post.
Here is a picture of my steamer: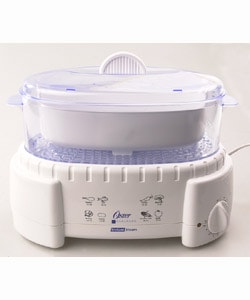 After reading this awesome post by Allison Tate titled
The Mom Stays in the Picture
, I am making a concentrated effort to be in the picture more and more with my blessings. If you haven't read the article, please do. It moved me to tears when I read it!
So here is my oldest baker ready to help! Please excuse the no make-up look, but also in an effort to be real that is the look I sport most days! I typically wear make up on Sundays. :) Just keepin' it real!
Here is my steamer, instruction manual/recipe, and the banana bread mixture ready to steam.
Here is our finished product ready to be sliced! Delicious!
Banana Bread Recipe From Sunbeam:
Ingredients:
1 1/2 cup flour
3/4 cup sugar
2 teaspoons baking powder
1/2 teaspoon baking soda
1/2 teaspoon salt
2-3 ripe bananas mashed (1 cup)
1/2 cup margarine
1/4 cup milk
1 egg
Combine flour, sugar, baking powder, baking soda, and salt. Add bananas, margarine, milk and egg. Pour into greased and floured Rice Bowl. Cover Rice Bowl with aluminum foil to prevent water from entering. Be sure the foil creates a tight seal around the Rice Bowl. Fill the water reservior to Max level. Place Rice Bowl in Steaming Bowl. Steam 60 minutes.
Enjoy!
Linking up to some of these
great sites
!